Crisci does commercial better
Our commercial and retail experience is unmatched. It's not just the years of experience with projects of all sizes, or the prestigious names we could throw around. It's about the quality of the final product and the satisfaction of our clients.
Honest answers, world-class solutions
When we start a project, we quote exactly what we believe it will cost to build it right. Then we set out to finish the job in even less time, for less money – so we can pass the savings on to you.
If something doesn't look right, we'll let you know the moment we spot it to avoid wasting valuable time and money. We live by honest answers because they save you unexpected delays and unnecessary costs.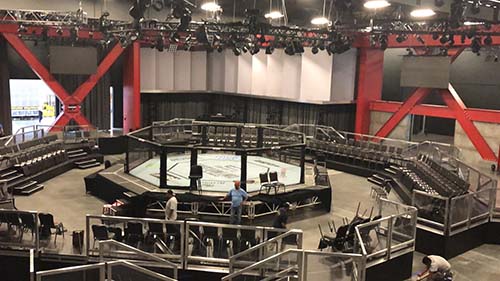 UFC arena in Las Vegas widely reported on by numerous sports websites and media outlets.
Why Crisci commercial projects are different
Regardless of the size or cost of a project, we understand your need for honest communication. This approach is what makes us special. Once we start a project together, you are like family to us.  No one takes advantage of our family. That means if we see someone not being straight with you, we'll speak up, like a good business partner should.
Informed by decades of very atypical work, we know our way around obstacles that would stump other builders. Often that means innovating to find a solution, or taking a different approach.  We are tenacious, uncompromising and tactful. While other companies are stuck in what everybody else is doing, we are doing what's right for you.
We look forward to working with you.
Your greatest asset is our expertise in commercial construction, high-end custom residential building, home remodeling, institutional construction, commercial office and retail construction and civic parks and public buildings. Call when you're ready to begin your next successful construction project.