You deserve the best.
There's the traditional way of doing things as a builder, and there's our way of catering to you. We think you'll appreciate the difference.
Traditional methods of construction are archaic.
These methods seem to be etched in stone. And they don't work in your favor. Inherent in these methods are change orders, exceeding budgets and deadlines, disappointed clients and, worst of all, a hands-off approach by the builder once the contracts are done.
We've found that 90% of the time, when a project is completed using traditional methods, there are cost overruns, it's not done on time and the client isn't happy because they had to live with something they didn't want. Within a year, they're spending money again because they didn't like how it turned out.
We're different from the ground up.
World-class companies and individuals look to us to do it better – and we deliver.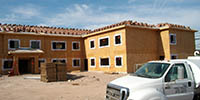 They look to us to manage the project from start to finish – not just until the paperwork is done. Too often, managers are hands-off after their part is done, leaving problems to the hands-on workers to solve. We are double and triple hands-on heavy in our management throughout the process. That means more catering to you, controlling costs, finding efficiencies and being your true partner in the project.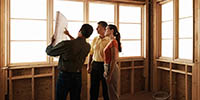 They look to us again and again. We're very proud of the fact that our business is almost entirely referrals and repeat business. Once someone experiences our way of partnering, they never want to go back. We've even returned hundreds of thousands of dollars back to our clients at the end of a project. The difference is not only hard work, but working smarter and with the intent to build a long-term relationship.
They look to us to control their budgeting. One way we do this is control all aspects of the project from start to finish, not just until contracts are complete. It's easy and common for clients to be pushed around by well-meaning architects and designers. We put reality into the design and architecture and manage the real cost impacts.
We did it the archaic way for a while, and we know it doesn't work. That's why for decades now we've been doing things unlike anyone else. It simply works better. It's easier for us to do it right the first time, catering to your every need and sweating every detail. It's more satisfying to have so many good client relationships. And it's rewarding to treat our clients like family.
And we believe that's better for everyone – especially you.