Our business is built on hospitality
Because we put our clients first, we understand the industry of putting customers first. In a city known for hosting visitors from around the world, we have built some of the best facilities for relaxation, exercise, dining and entertainment. 
We cater to you
The #1 reason clients work with us is our "bedside manor" – we literally cater to you. Where other builders walk away when the contracts are done, we stay with you until your project is finished. We control the budget and the schedule, not just make a plan and leave it to others to execute. That means if you want something changed or added mid-project, we're not the ones to say no. Instead, we work to figure out how to say yes. You don't want to hear excuses, and we don't want to give them.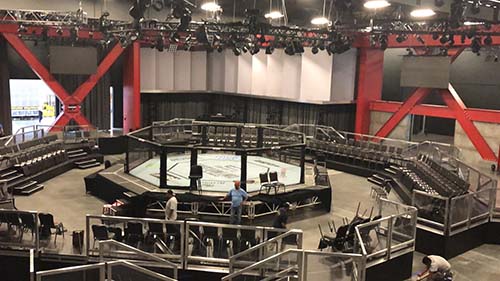 UFC arena in Las Vegas widely reported on by numerous sports websites and media outlets.
It's all about relationships
The overwhelming majority of our business is from an existing relationship. That's why we say – you may not know us yet, but everyone else does. If you're in the large-scale hospitality industry, chances are you know someone we've done work for. They'll tell you all you need to know – timelines met, budgets met, questions answered and higher quality than you'll find from most any other builder.
In fact, the quality of our finished projects is just as important as the relationships we build. You don't want to tear something down a year or two after it's done and start over, and neither do we. That's why we'll tell you, right from the start, what it's going to take to complete your project right the first time, and how to save time and find efficiencies while doing it.
We look forward to working with you.
Your greatest asset is our expertise in hospitality construction. Call when you're ready to begin your next successful construction project.
Ben Cornwall
702-355-1903